Chero Piping Project – Pipeline for petrochemical sector
For over forty years Nicro has been operating in special metal alloys field for development and construction of stainless steel products with high nickel content to be used in different sectors such as: steel, chemical-pharmaceutical, marine and petrochemical industries. Thanks to the great experience obtained in the field and a highly specialized project department, we have recently designed and developed a very important job for petrochemical sector, the first of this type for Nicro.
This product for a new installation in East Europe, is a component of a plant producing granulated Urea, with a final value of several hundred million euros.
The care and attention to details involved for this project have allowed us to achieve an important result in petrochemical sector in which our Company is expanding and investing heavily. Please click here to find out the latest news from the Nicro world.
Considering more closely this project, it appears that more than 90% of the world production of Urea is for agricultural sector in the shape of nitrogen fertilizer, applied directly to the ground as simple fertilizer. Urea is the fertilizer with the highest concentration of nitrogen, produced in a so-called "prilled" formulation or in granular form, with the advantage of greater uniformity for product distribution. Urea is widely used in agriculture for soil nutrition and nitrogen fertilization, and it is now essential in the preparation and phases for plant growth.
Another important field of application of Urea is the production of chemical compounds such as, for example, urea-formaldehyde resins and adhesives for the wood and furniture industry. A high quality Urea solution is also used in the automotive industry to reduce the presence of nitrogen oxides in exhaust gases.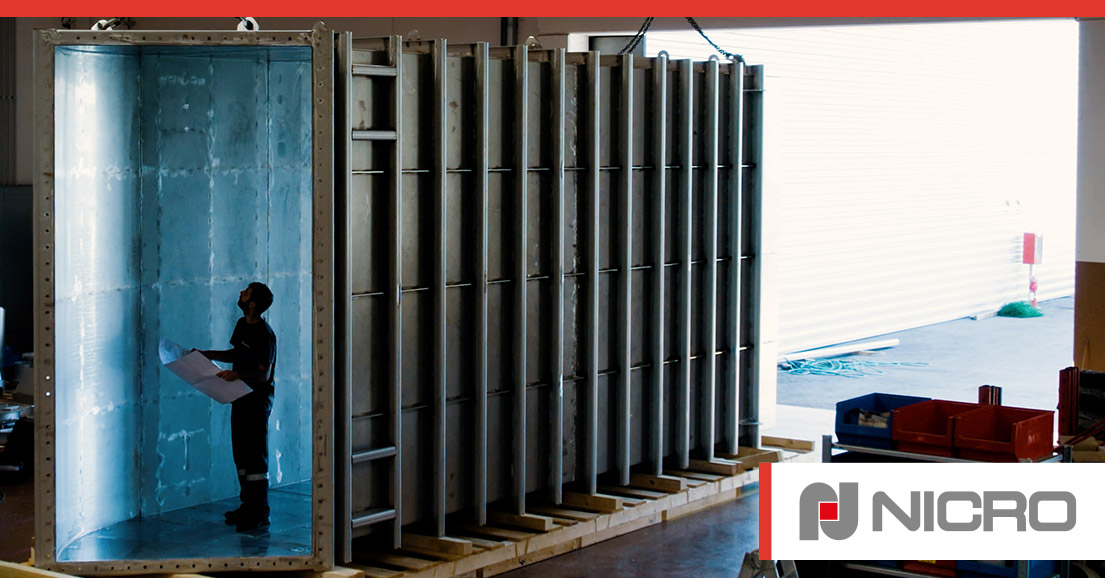 Technical features
The new plant will produce and commercialize high quality urea for domestic and foreign markets, with a production capacity of granulated urea of ​​over 540,000 tons per year.
The pipeline carried out was the most important job of the Company in year 2021, both for economic terms and for the overall dimensions of the product, as well as for the satisfaction of our staff.  The project was carried out in different sections (10) and with a specific material, namely 316L (W.st 1.4436), demonstrating our great versatility in creating different customized solutions to meet customer needs.
In addition to this component, Nicro manufactured several sections of the plant allowing the connection different machines to each other. Part of these components were made of carbon steel for low temperature application and other with alloy material AISI 316 stainless steel for Urea.
The so-called "way section" had dimensions of 1.830×3.680mm and then with structural reinforcements the overall dimensions became approximately 2.130×3.960mm. Nicro manufactured also the carbon steel granulator, with overall dimensions of 2,500×10,000mm and H = 3,300mm, divided into 6 different sections for transport reasons. The pipeline, as a whole piece, will reach 36 meters in length once installed.
For the realization of this important order Nicro made use of the best technologies available for the preliminary phases, assembly, welding (plasma arc welding and GMAW) and for the final operations.
In fact, thanks to the grown knowledge of different steel alloys , a highly specialized team and using technological and innovative tools and machinery, Nicro succeeded in its intent to carry out this very important pipeline for petrochemical sector in an accurate and precise way, according to the customer's requests.
Therefore, a truly important job for the development of the Company towards new and different sectors and applications. Once again another excellent project completed thanks to qualified personnel, experience in sector and attention to detail that have allowed us to build a highly performing and totally customized product.